House Renderings: Crush Your Competition Increase Home Sales With Affordable 3D Architectural Renderings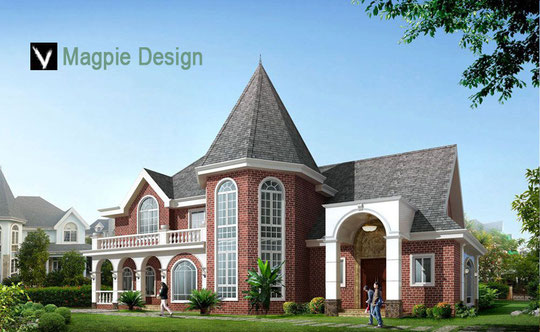 Using residential renderings is a vital component of an effective residential sales campaign. The use of quality house renderings gives your project a voice.
With all of the noise in the marketplace competing to attract potential customer's attention, don't make the common mistake of using second rate presentations for your model homes.
Your business' image is dependant upon the delivery of a consistent message More specifically, we are talking about the visual image. Your architectural rendering company should work with you to establish a visual style that sets your business apart from the others. This will help to identify your image for use in advertising and marketing campaigns.
Through two decades of experience, we have found it's imperative to have a consistant image; especially during times when the market is down. Home builders that distinguish from the competition with model home design and their company's visual image are on a solid footing. Using a unified and focused architectural rendering style and advertising message will bring success. Success is achieved by creating a voice that is heard through the chatter of the marketplace.
We have seen a remarkable change in marketing focus where an internet presence is necessary. The use of 3D architectural renderings is paramount. These renderings are a core element involved in increasing consumer interest. In fact, internet marketing strategies provide some of the most cost effective methods of introducing your product lines to prospective consumers.
Regardless of the marketing strategy you implement, quality 3d renderings should be the anchor for delivering prospective customers to your product line.
Affordability
In the past, price was a problem. Today, it's no longer the high hurdle it was of the past. The cost to complete a residential rendering today is less than it has been in the past. This is due to advancements in 3d rendering software. Unfortunately, even though the new technology yields better high quality 3D illustrations, the labor component is still key. In fact, in our opinion, it's the human element that gives your residential rendering that personal touch. A style that is unique to your company.
Outsourcing is now a thing of the past. What is best is you don't have to go overseas to a country where the services are prepared by a team from another culture that have never walked down the streets of an American residential subdivision. The subtle nuances of the American lifestyle are difficult to communicate. It's almost impossible for a foreign rendering service provider to provide the perfect rendering.
How do you find a firm to complete your architectural renderings at an affordable price? When looking within our borders, it can be very difficult.